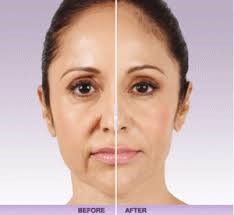 BOTOX – PREVENTIVE AND REJUVENATION TREATMENT FOR FACIAL WRINKLES
The International Association for Physicians in Aesthetic Medicine (IAPAM) teaches that Botox injections have preventive uses for younger patients and rejuvenation uses for those with already established facial wrinkling (see quotation below).
"Share with the patient that the best use for Botox is preventative – NOT reparative. By starting Botox every 4 months in your late 20s or early 30s, patients effectively avoid the years for crunching and frowning which eventually lead to furrows."
THE MOST EXPERIENCED PROVIDERS, REASONABLE PRICES
Relief Medical Group, Inc. is pleased to have one of the most experienced physicians in the Bay Area, Edmund Kemprud, MD, providing the cosmetic injections for Botox and fillers. Botox is the most commonly used wrinkle treatment and Juvederm is a popular option to fill lines that have developed on your face.
A TYPICAL USE FOR A JUVEDERM FILLER IS SEEN IN THE PICTURE BELOW:
VARIOUS USES FOR PATIENT WRINKLES WITH BOTOX
ARE SEEN IN THE EXAMPLES OF PATIENT RESPONSES BELOW:
IF YOU HAVE ANY QUESTIONS ABOUT BOTOX OR JUVEDERM PROCEDURES, EMAIL US AT RELIEFMEDICALGROUP@GMAIL.COM

COSTS
Relief Medical Group Inc. offers reasonable prices for Botox, based fairly on a per unit charge, and costs are very flexible to accommodate a patient's specific needs, desires, and budget. Look for internet specials on the home page or ask about our introductory specials available for first time Botox users. A complimentary follow-up visit in one week is provided at no charge to help optimize your Botox treatment needs.